Buying a communion dress can be a beautiful experience for children and parents. Preparing for First Communion should be a time to focus on faith and hope. It can be a time of quiet reflection and deep sentiment. The preparations and ceremony show respect and appreciation for religious symbolism.
The communion dress is synonymous with the meaningful celebration of the Eucharist. The process of? finding the perfect dress shouldn't involve panic or stress. Who wants to ruin such a beautiful memory! When you know a few simple tips, buying a first communion dress can be an easy, enjoyable, and memorable time.
Buying A Communion Dress
1. Know The Parish Requirements
Before buying a dress, you should check the requirements for your parish. Many people don't bother to inquire about this before shopping. Yet this information is necessary prior to buying the gown.
Check to see if your parish requires full length or tea length dresses. Sleeveless dresses aren't always allowed for First Communion. A veil headpiece and gloves may or may not be a requirement. Learn the rules regarding the use of sweaters, shawls, boleros, and jackets.
2. Know The Plan
Even when you know the parish rules, you still need more information. How are the other girls dressing for the ceremony? Discuss this matter with other parents. Full length dresses may be allowed for the ceremony but maybe the girls are wearing tea length dresses.
The most important consideration must be your daughter's happiness on her special day. If she doesn't mind expressing her individuality, then any acceptable dress will work well for her. If she wants to wear a dress similar to her friends' dresses, then she won't be comfortable with a different choice.
3. Know The Measurements
Knowing a child's correct measurements results in a well-fitting dress. Children grow quickly so be certain that you know your child's current size. Don't go by last month's measurements! Gowns shouldn't fit too snug or shouldn't be too big for a young girl. Measurements can be matched to a size chart. A baby girl toddler dress style are also a great choice if your girl is too young.
Always measure for length from the top of the shoulder down to where the dress will fall to on the child. Measure her chest (breathing out, not in) from one and a half inches underneath the armpit. Measure around the fullest part of the chest. In addition, measure around the normal waistline. To ensure perfect comfort, there should be one to two inches between her chest and waist measurement and the dress.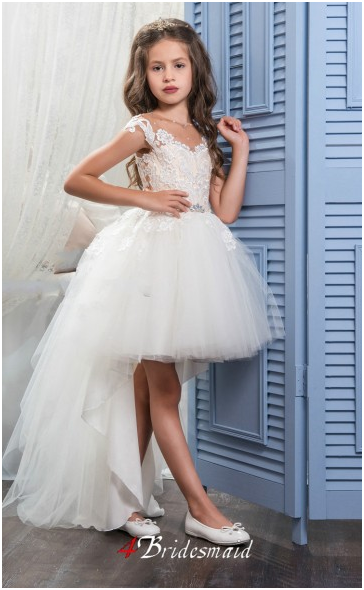 4. Know Any Special Needs
If a young girl has any special needs, they need to be identified so that she can find the perfect dress. If a size larger or longer than regular is required then there are retailers who can help with that request. Couture fashion is also an option. Special needs can also refer to sensitivity to certain fabrics. Buying the right dress can be easy when you understand the individual child.
5. Know Your Budget
Prices vary for first communion dresses but there are choices to fit every budget. With their fine fabrics and exquisite detail, some dresses are in the high price range. Yet retailers offer hundreds of styles at various prices. It is easy to find a lovely communion dress on a low budget. Plan your budget to ensure stress-free shopping.
6. Know Your Retailer
Decide where you want to shop for a communion dress. Specialty children's wear shops, larger department stores, and even certain bridal salons carry the dresses. The latest trend, however, is towards online shopping.
Specialized online stores carry an excellent inventory. Some retailers even offer free shipping and free returns for communion dresses. In addition, there are the extra advantages of online shopping including the comfort of browsing through styles at home.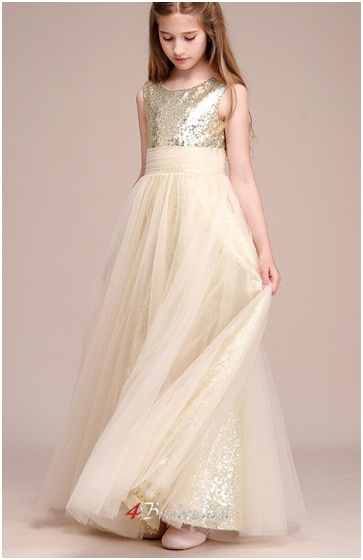 7. Know The Types
There are three main types of communion dresses – classic, traditional, and modern styles. The classic dress is the most popular type. This style is usually satin or organza (or combination) with clean, simple lines.
The traditional type, a girls formal dress, is very lavish, and usually has a veil. The modern dress doesn't fall into the classic or traditional category. The modern dress is a trendy style. The modern type, sometimes sleeveless, is often seen in A-line styles.
The type of dress must fit the ceremony and the parish guidelines. The girl's preferences must also be considered as it is her day. Many cultures favor the traditional style especially if the mini-bride look is part of their tradition.
8. Know Your Heirloom
If using a heirloom headpiece or accessories, a bright white dress will not match these keepsakes. A creamier shade of white, such as ivory, would have to be chosen to match a heirloom. Whites fade over time and a heirloom piece with a brilliant white dress will be a mismatch.
9. Know Your Whites
When choosing a dress and accessories, remember that all whites are not the same shade. There are hundreds of shades and variations of white. Some of the more popular shades are brilliant white, diamond white, champagne, off-white, candlelight, silk white, ivory, and cream.
A diamond white dress with ivory shoes won't be a match. Silk dresses are always off-white and bright white accessories should never be used with them. Keep the dress and accessories within the same shade of white.
10. Know Your Accessories
The dress and the accessories should complement each other. The accessories must always suit the dress style. The items should also match the shade of white in the dress.
White gloves often accompany the traditional style. Accessories can range from headpieces, gloves, shoes, and boleros to lace tights and dolly bags. These tiny bags, with a drawstring, can go over the wrist and hold rosary beads and a prayer book. Always check the parish rules about accessories.
Careful planning should be the first step before shopping for a communion dress. This once-in-a-lifetime experience should be a joyous occasion. The dress is a beautiful symbol but the true beauty lies in the symbolism of the sacrament.