Impressionism, or French Impressionism, was a significant artistic style that mainly originated in France in the late nineteenth and early twentieth centuries. It initially appeared in painting and then moved into music. The artwork created between roughly 1867 and 1886 by a collection of painters who shared similar ideas and techniques is called impressionist painting.
The Endeavour to properly and objectively depict visual reality in terms of fleeting effects of light and color was the most striking aspect of Impressionism in painting. Camille Pissarro, along with other Impressionist painters like Monet and Renoir, was the leading painter at this time. They collaborated, inspired one another, and held joint exhibitions.
Concerning Camille Pissarro
French Impressionist artist Pissarro (1830–1903) specialized in landscapes but regularly switched between styles and topics. He played a key role in the emerging artistic movement of the nineteenth century, initiating solo exhibitions and encouraging future painters like Vincent van Gogh (1853-1890) and Henri Matisse, as well as successors like Paul Cézanne. French landscape painter Camille Pissarro is most recognized for his impact on Impressionism and Post-Impressionist art.
The Impressionist years of Camille Pissarro
Pissarro spent a lot of time considering founding a salon rival in the early 1870s. He discussed this concept with Renoir, Monet, and other artists. They came up with the concept of a community with a charter modeled after a local bakers' union. By January 1874, Pissarro had contributed to establishing a cooperative in this manner.
The group presented what is often referred to as the first Impressionist exposition in April of that year at 35 Boulevard des Capucines studio photographer Nadar in Paris. Pissarro displayed five works of art at the exhibition, including Hoar Frost, Pontoise, and The Old Road to Ennery. The artists Monet, Sisley, Renoir Cézanne, Berthe Morisot, and Edgar Degas, were among others who also displayed their work.
The Impressionist painters all had a similar ambition to preserve the passing influences of color and light to document the contemporary environment. As a result, they tended to steer clear of conventional models and compositions in favor of emphasizing tone, texture, and high-keyed color.
Pissarro favored painting country scenes to the contemporary urban subjects that some of his contemporaries chose, although he shared their ambition to depict the light's effects on objects. As a result, his early Impressionist works exhibit the same loose brushwork and lack of sketching as other works from the movement.
Young Peasant Woman Drinking Her Café au Lait, one of Camille Pissarro's most famous paintings, is an example of how figure studies, instead of pure landscapes, predominated his work at this time (1881). However, Pissarro was a mentor during this time, patiently working with the exuberant young painter Paul Gauguin.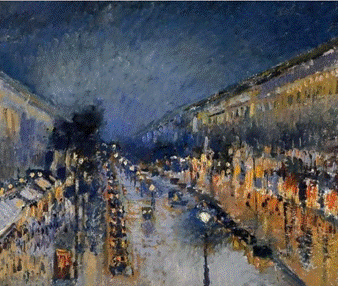 Boulevard Montmartre; Night Effect – Camille Pissarro
All about Painter Pissarro's growing publicity
Due to Durand Ruel's exhibitions of Pissarro's art in Boston, Brussels, and New York, his renown expanded globally by the middle of the 1880s. Theo van Gogh was yet another helpful dealer contact he had made. However, Pissarro's reputation and concerts with scant sales did not enable him to pay off his obligations.
To make this situation worse, he started to experience severe eye problems. His eye condition required many interruptions from his work and eventually led him to give up painting outside. Unfortunately, this meant there would be a reduced creation of Pissarro landscape drawings. To deal with this issue, artist Pissarro was forced to enlist the aid of fellow artists; this time, Monet, who was, at last, experiencing significant financial success, assisted.
Nevertheless, he persisted, and in 1891 the sales situation improved, and the following year was much better. At last, it appeared that the dealers had realized how undervalued and wise an investment Pissarro's work was. In 1892, Pissarro purchased his home in Eragny thanks to a loan from Monet, and he traveled to England to create a group of 12 portraits at Kew Gardens.
Another successful year for sales was 1893, which allowed the artist to turn a farmhouse at Eragny into his new studio.
Pissarro migrated to Belgium from France in 1894. He fled the day after anarchists assassinated President Sadi Carnot. Since several of Pissarro's anarchist companions had been placed on trial, his extreme socialist views may have drawn unwelcome attention from the government. Pissarro was, therefore, in a much better position.
Pissarro had long been interested in the anarchist movement, but he was never actively involved and did not support its use of force. Instead, the artist was angered by how industrialization had brought forth a completely new degree of poverty in society and opposed the state's and religion's intrusion into people's lives. His painting, which rejected conventional techniques and portrayed "eminent" peasantry in a utopian setting, subtly echoed these anarchist impulses.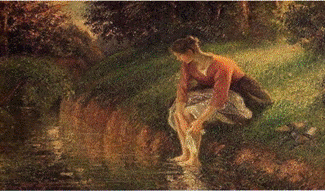 Young Woman Bathing Her Feet – Camille Pissarro
His last impressionistic years: series of paintings
By 1890, Painter Pissarro thought he had finally figured out how to achieve the harmony in painting he had sought throughout his career. He informed his niece in a letter about how this finding came about.
Georges Bernheim, a dealer, told Camille Pissarro in an 1891 letter that his time had come, acknowledging the evolution of his art since the peak of Impressionism. Durand-Ruel hosted a significant and popular exhibition of Pissarro's landscape work in 1892, and for the first time, the painter experienced some degree of financial security.
Conclusion
Pissarro was indeed an essential player in the development of Impressionism. In some ways, he was the prototypical Impressionist because of his unwavering faith in the need for separate group exhibits and his dedication to portraying landscapes in particular weather and lighting circumstances.
By the conclusion of his life, he was starting to get accolades and critical acclaim. This perception persisted throughout the twentieth century when reviewers and academicians continually recognized his significance to Impressionism.