As we move further into the 2020s, there are a few things that you need to know about financial app design. To stay ahead of the curve, it's important to understand how users interact with these apps and what they expect from them. Here are the main considerations for designing perfect financial apps in 2022.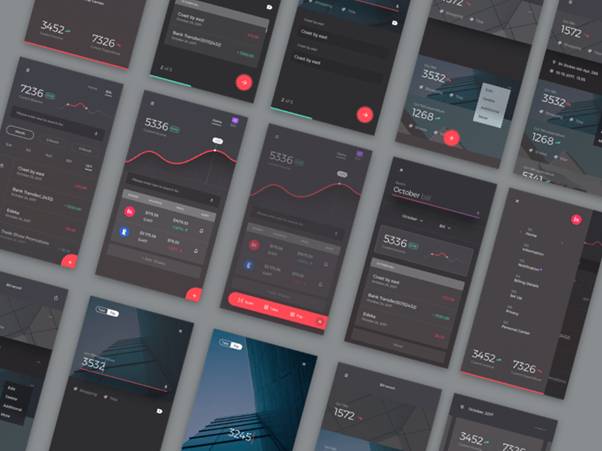 source: sketchappsources.com
Financial apps must be more personalized and user-friendly
Users want apps that cater to their individual needs and make managing their finances easier. This can mean offering personalized budgeting tools or integrating with other financial accounts to provide a comprehensive view of a user's financial situation. But do we mean by offering this level of personalization?
Integration with emerging technologies
In 2022, we will see a rise in the use of emerging technologies like artificial intelligence, virtual reality, and blockchain in financial apps. It's important for UI/UX designers to keep up with these developments and consider how they can be integrated in a way that adds value for users without compromising security.
Users expect financial apps to offer a one-stop shop for their banking and investment needs. This means making it easy for users to access and manage all of their accounts, as well as offering a range of services such as loaning or investing options.
Blockchain technology is also becoming more prevalent in the financial sector, and it's important for designers to consider how it can be integrated into app features.
In addition to functionality, users want a modern and visually appealing design. This can include features like customizable dashboards and streamlined navigation. With these considerations in mind, you'll be able to create a successful financial app that meets the needs and expectations of 2022 users.
Another trend in financial app design is the use of gamification, where certain actions are rewarded with points or virtual badges. This can add a fun element to managing finances and encourage users to engage more with the app.
When we say user-friendly, we don't just mean a visually appealing interface. It's important for financial apps to have clear language and user-friendly navigation for all types of users, including those who may not be tech-savvy.
For example including options for voice commands or offering tutorials for first-time users. Simple tutorials can also be useful for explaining new features or updates to the app. Even your cousin or grandma should be able to navigate and use your app.
Financial apps will help people save money and plan for the future
Banking app design must go beyond offering traditional banking services and help users save money and plan for their financial future. This can include tools for setting savings goals, investing, and planning for retirement.
There will also be a greater emphasis on financial education in app design. This could involve providing resources or even offering personalized recommendations based on a user's specific financial situation.
The use of artificial intelligence (AI) and data analysis in financial apps will continue to grow.
AI can provide valuable insights into a user's spending habits and financial health, as well as suggest ways to save money or improve budgeting.
Data analysis can also assist with fraud detection and improve the overall efficacy of the app. It's important for designers to understand. This could include features like investment advice, retirement planning calculators, and savings goals.
The use of artificial intelligence and data analysis will also become more prevalent in financial apps, helping users make informed decisions about their money and plan for long-term financial success.
Portability on any possible device
Adaptivity and accessibility will also continue to be important factors in financial app design, as more people use mobile devices for managing their finances. This includes making the app available on multiple platforms and ensuring it can be easily used by individuals with disabilities.
Not smartphones and tablets, but smart watches and other wearable devices will also become a more common avenue for accessing financial apps. Designers will need to consider the unique constraints and opportunities of these smaller, portable screens in their design processes.
This feature should tie back to the overall user experience, making it convenient and easy for users to manage their finances on the go. That's why it is the main FinTech trend for 2022.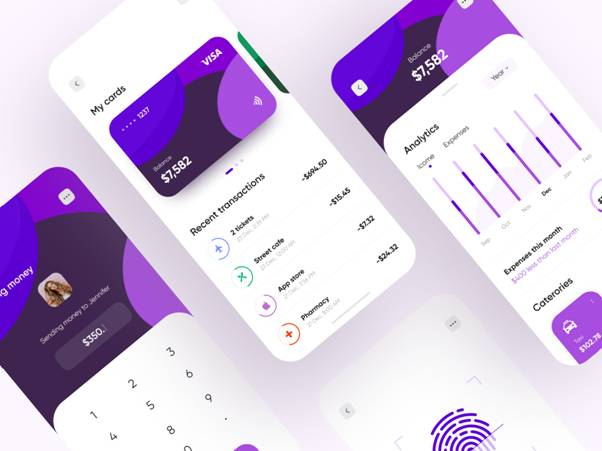 source: design4users.com
Personal data must be in safe hands
Did you know about statistics that show the growth of hacker attacks on financial institutions?
According to a 2022 report from Accenture, cyber attacks on financial services firms have nearly tripled in the past five years, with a 40% increase in the past year alone.
This means that it will be even more important for financial app designers to prioritize security and protect sensitive user information. This includes implementing measures like multi-factor authentication and encrypting data. Moreover, designers must ensure that user data is securely stored and encrypted.
However, the use of biometric authentication, such as fingerprint or facial recognition, can also improve security while making the login process more convenient for users. Based on a 2022 report from YahooFinance, The global biometrics market is expected to grow from $27.88 billion in 2021 to $32.48 billion in 2022 at a compound annual growth rate (CAGR) of 16.50%.
But we also need to consider the ethical implications of collecting and using personal data in financial apps. It's important for designers to consider privacy concerns and provide clear disclosures and choices for users. Edward Snowden's revelations about government surveillance have made users more wary and cautious about their online privacy. That's why we need to find a balance between security and ethics in financial app design.
Final Comment
As the financial industry continues to evolve and technology advances, it's important for app designers to stay up to date on the latest trends and incorporate them into their designs. This includes considering factors like personal finance planning, device adaptivity, and data security in order to create a seamless and secure user experience.
By keeping these trends in mind, financial apps can set the standard for innovation in the industry.