Is your Android mobile running short on storage? Want to save your files saved in the Android mobile and not lose them? Then here we give you the free and easy-to-use Android file transfer tools for Windows by which you could transfer files from Android. By going through these tools, you will get to know the best transfer tools and thus save your files from being lost!
Part 1: Free and Easy-to-use Android File Transfer for Windows
1. Visdee Phone Transfer
Visdee Phone Transfer is a fast and reliable Android file transfer for Windows and compatible with 2000+ mobile devices like Samsung, Huawei, Moto, and more, to transfer contacts, WhatsApp chats, video, music, photos, SMS, call logs, calendar, etc. Also, Visdee allows flexible selective restoration of data from iTunes and iCloud backup. Additionally, it supports exporting WhatsApp backup
Pros:
1. Offers one-click phone-to-phone data transfer of files.
2. Supports transfer of data from Google Account.
3. Designed using high-end encryption technology, and thus it's safe.
Cons:
1. Takes time when you transfer files with large size.
2. It is compatible with only a few devices.
2. Dr.Fone – Phone Transfer
Dr.Fone – Phone Transfer, an Android file transfer tool, can transfer a wide range of files like photos, videos, messages, contacts, call history, voice memo, bookmarks, calendar, contact blacklist, music, and apps from Android to another Android. Though here we look for Android-supported software, this tool supports both Android and iOS devices. It offers one-click transfer of files between any two devices at high speed and thus a high success rate.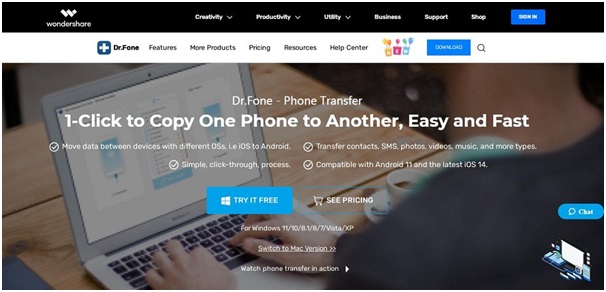 Pros:
1. Available for almost all versions of Windows and Mac.
2. Just one click to transfer files from one phone to the other.
3. Offers high-speed data transfer of files between devices.
Cons:
1. The free version offers limited features.
2. Change in resolution when transferring photo files.
3. AirCopy
AirCopy offers wireless, easy, and fast Android file transfer from mobile phone to computer. It supports both Android and iPhone to transfer files like photos, videos, documents, and more. It allows you to view, edit, or use files transferred to your PC. AirCopy offers an easy method to transfer data using a simple QR code mechanism compared to other software. You could transfer files from your PC to your mobile as well.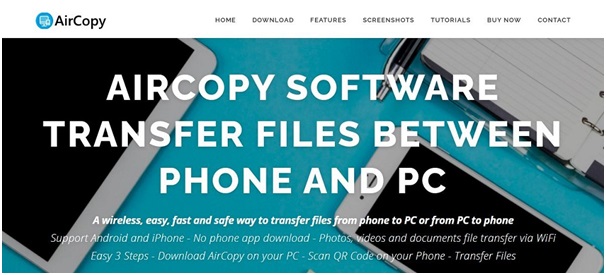 Pros:
1. Offers wireless file transfer using Wi-Fi.
2. Does not need any additional phone application.
3. No Bluetooth pairing is required.
Cons:
1. Does not provide support for Mac OS.
2. Supports only a few file formats.
Conclusion
So, here we listed the Android file transferapplications for Windows, which renders easy file transfer capabilities. The Visdee Phone Transfer tool is the best for its safe and secure features among the listed applications.