Introduction
Many readers have recently asked us about different methods to restore or repair images. No matter what happens to your photos that were attacked by malware or damaged during the transfer process, They can be easily repaired. You only must take the help of a reliable tool for the repair of your photos. In this article, we're going to talk about the most frequent causes of corrupted images, different ways to fix damaged photos, and how to fix corrupted photos with Repairit.
What is the reason for the photo to be corrupted?
A corrupted data file is a common issue for users of computers. Every file can be damaged due to software or operating system problems, but corrupted images are persistent and a problem. Here are the most frequently cited causes of a photograph becoming damaged.
The file system is corrupt
Scratch on CDs/DVDs
Data degradation
Silent data corruption
An interruption in data transmission
Incompatible photo file format
Common methods for repairing damaged photos
The following methods are a good way to fix corrupted photos.
Update your photo viewer application: Updates are a great way to resolve any problem in the app. Perhaps the older version of your image viewer doesn't work with the format you're trying to open. If your photo viewer isn't capable of opening images, Try updating it at least once. For instance, Windows Photo Viewer, IrfanView, Photoshop Elements, update, and open the images.
Repair damaged image files using the photo repair tool: Professional photo repair software will ensure that your photo's damaged header, corrupted data in the file, a flawed structure, and incorrect JPEG marker, and so on. There are many repair tools for photos available. But selecting the best repair software is an overwhelming job. There is much different software that can fix all kinds of photo problems with corruption.
Convert image file format: Most image files in RAW format aren't compatible with photo viewer software. This is because the photo viewer you are using may not support uncompressed photo formats like C3 NEF, RAF, ARW, etc. This means that images will not open, and they become inaccessible. Try it by changing your images to JPEG or JPG, PNG, TIFF, or another format. You can use any safe online image file converter program to accomplish this.
Open your photos with another program: Try a different application to view your photos. It is possible that your photo viewing software does not support the format of your photos. Try Paint, Photoshop, Lightroom and other programs.
How can you fix photos that are corrupted by using Repairit?
The following are the major advantages of using Repairit to repair corruption photos.
Corrects grainy, distorted blurry, pixelated, and greyed-out images.
The repaired image appears clear and vibrant.
Corrects broken headers.
Fixes an invalid image structure of the file.
Allows access to thumbnails.
It saves time.
Easy to use
Follow these steps to repair damaged images using Repairit.
Step 1. Launch Photo Repair and Add Corrupted Files
This is how your dashboard appears after the program is launched. Wondershare Repairit is widely used to fix or repair damaged files as well as extract thumbnails. Click on the "Add file" to upload the damaged image you want to repair.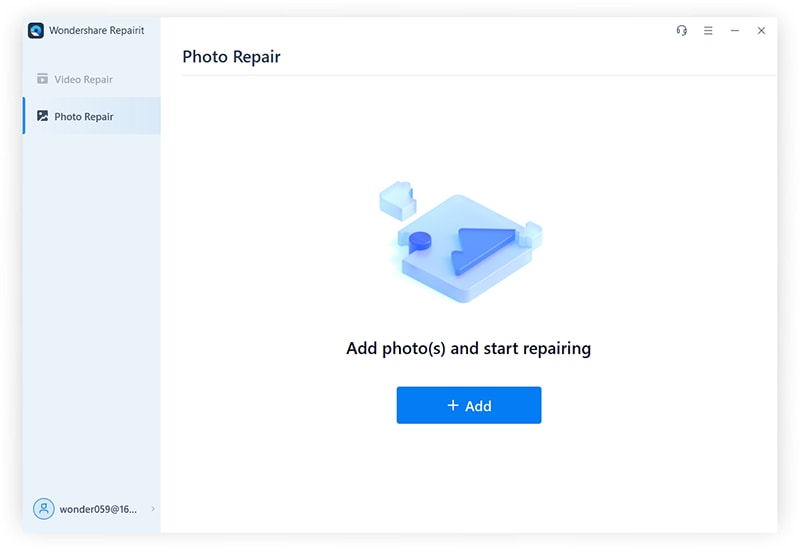 Step 2. Open and Repair Images
Click on an image to fix it. You can also choose multiple images simultaneously to fix them. Then, click repair to continue. You can click the 'Repair' button to view a repaired image when you've seen all chosen images inside the list.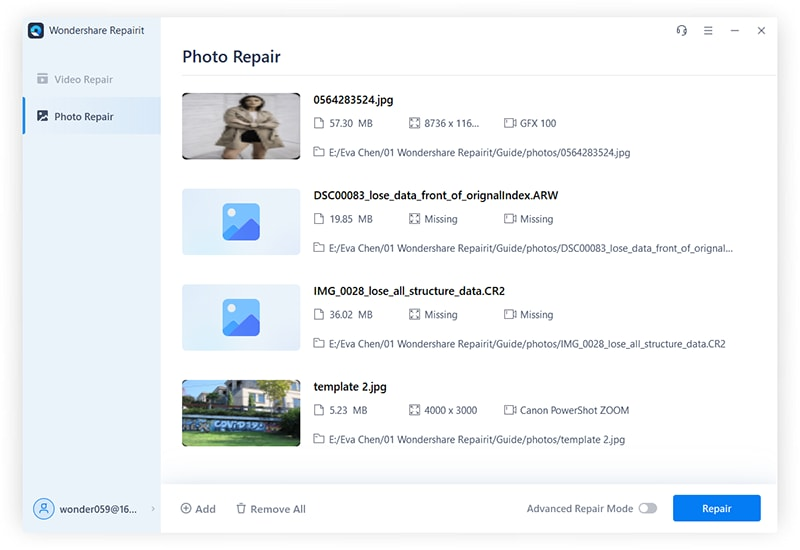 Step 3: Preview and Save Repaired Photos
Wondershare Repairit also offers an extraordinary option for saving the repaired files to the location you want. Click on the Save button and select a destination to save. Press the "Preview" folder to open the folder with saved files.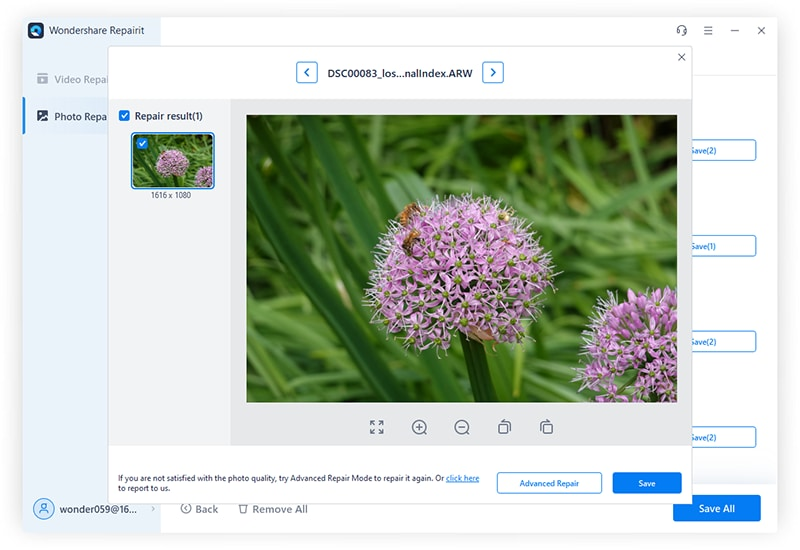 Conclusion
The corruption of files is a typical issue with digital media, as it can be damaged for several reasons described in this article. But, with the right actions as described in this post to recover and fix the corruption photos within Windows 10 from an internal or external storage media. Instead of using the device's built-in functions, you can utilize the Repairit repair feature for an image to repair damaged images quickly and in a single step. It is simple, and completely secure, which will not hinder your files. The process of preserving your personal or professional photographs may seem daunting, but it's not that difficult. Try this application and send us your opinions about it! Repairit, the one we have used we have tested, can also repair videos, restore thousands of formats for files, and ensure that your data is not lost in the event of damage to the drive or failure. It's a comprehensive tool that can meet all your needs for data security.