If you're looking to switch from Android to iOS and want to transfer WhatsApp from Android to iPhone, you've probably researched a lot of tools for this purpose. Although WhatsApp recently released an official method to transfer WhatsApp from iPhone to Samsung, the method does not support transferring WhatsApp data from an Android device to an iPhone. The only way to do this is to use a third-party application such as MobileTrans-WhatsApp Transfer or MobileTrans App. These two tools will allow you to transfer WhatsApp messages from Android to iPhone with or without a PC, respectively, and will ensure that all your data will be preserved 100% when transferring information from one device to another that running a different operating system.
Different Ways to Transfer WhatsApp from Android to iPhone
First, let's look at all the different options to do a WhatsApp transfer from one device to another when the OS is the same and when they're different.
One workaround method is to use the chat export function in WhatsApp to email the chat as a text attachment to yourself. The problem with this approach is that chats need to be moved individually, which is a painstaking process.
Another way is to use the official method; unfortunately, this won't work with Android to iPhone transfers because that feature is yet to be released. Right now, you can only transfer WhatsApp from iPhone to certain models of Samsung, which we'll explain in a bit.
The third and most reliable way is to use third-party software or mobile app to do WhatsApp Android to iPhone, and there are two robust applications from Wondershare that can help you execute the transfer seamlessly and with zero data loss. Let's explore these in more detail
Method 1: Transfer WhatsApp from Android to iPhone with a Computer
The first method involves the use of MobileTrans – WhatsApp Transfer and a computer (PC and Mac are both supported.) It doesn't require any extra cables or additional hardware; all you need is to download and install MobileTrans on your computer before you begin:
Launch MobileTrans on your computer and click the Transfer WhatsApp option on the welcome page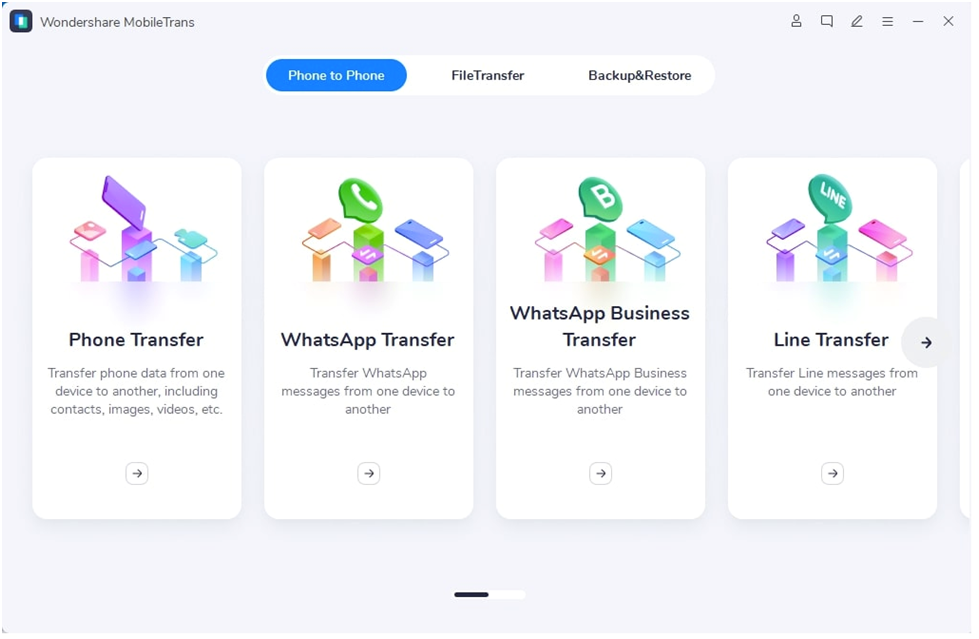 Next, connect both devices to the computer using their original charging cables but without the adapters
On your computer, click WhatsApp in the pop-up panel and wait for your devices to be detected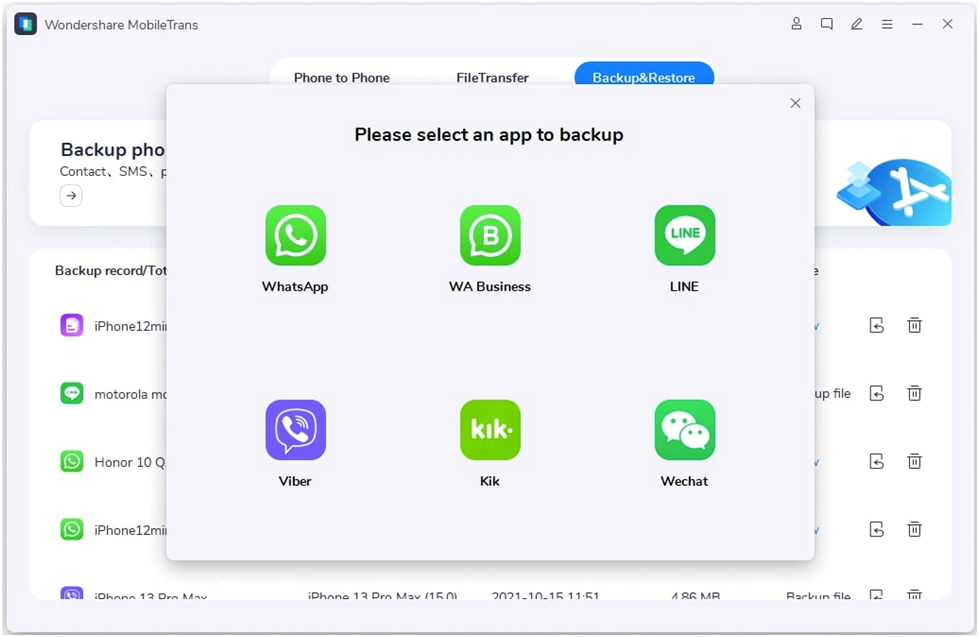 On the final page, make sure the Android device is displayed on the left as the source device; if not, click the Flip button to interchange their positions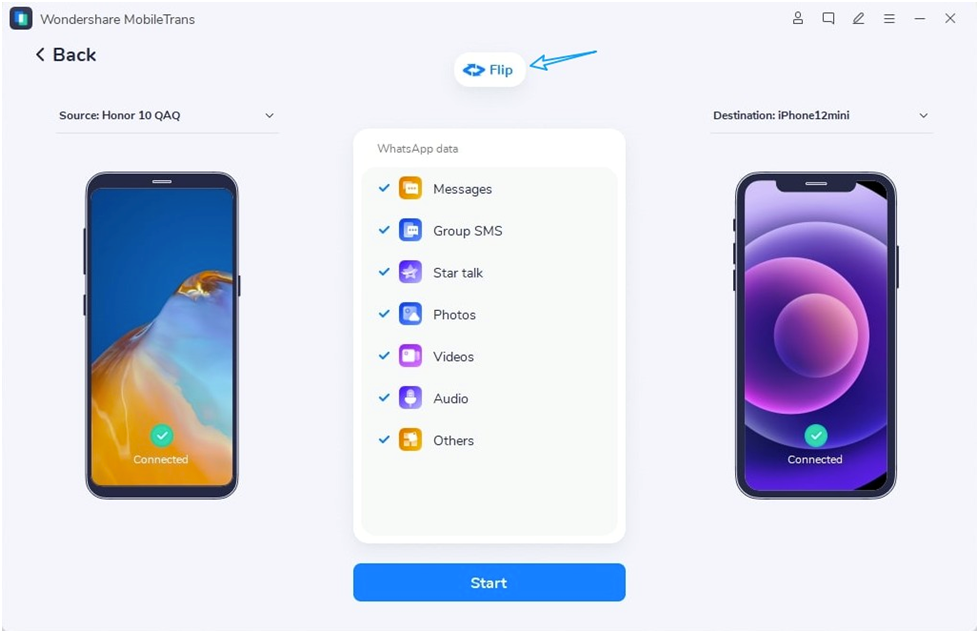 Finally, click Start to initiate the transfer and keep the devices plugged in until you see the success message on your computer screen – you can disconnect the devices after ejecting them properly.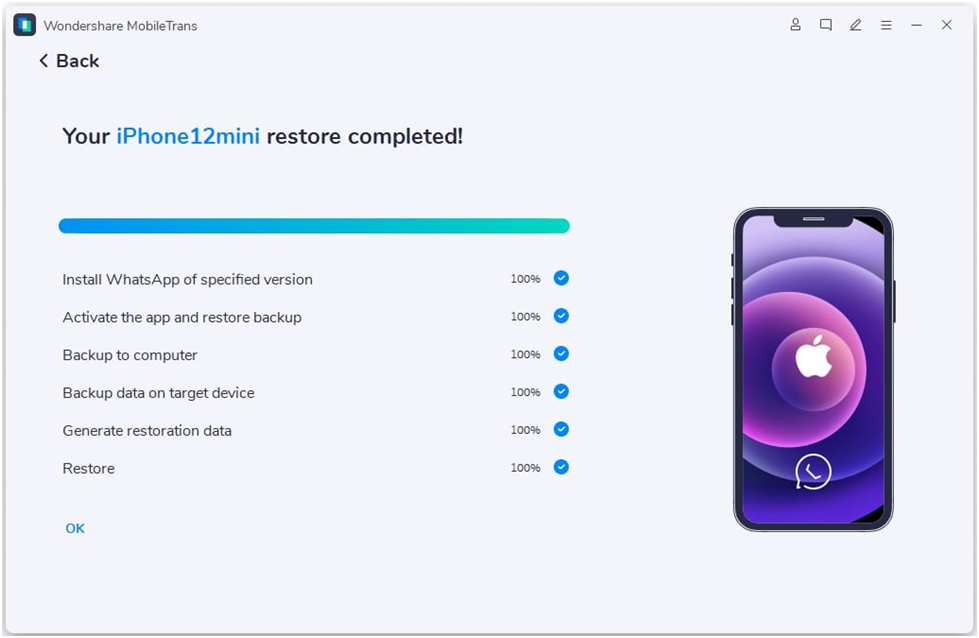 The advantages of using this method are many:
No data loss
Move WhatsApp data from any device to any other device regardless of whether it's Android or iOS
Supports WhatsApp Business, Viber, WeChat, Kik, and LINE
Export WhatsApp data as HTML or PDF from computer
Backup WhatsApp to a computer
Restore WhatsApp backups to other devices
Method 2: Transfer WhatsApp from Android to iPhone without a Computer
If you don't want to use a computer as an intermediary device, you can consider using the mobile app version, called MobileTrans – WhatsApp Transfer for Mobile. This neat little WhatsApp transfer app (also linked in the second section of this article) for Android is available from the Google Play Store, and the equivalent app for iOS is available in Apple's App Store. The steps are outlined below:
Download and install the respective mobile apps on both devices and launch them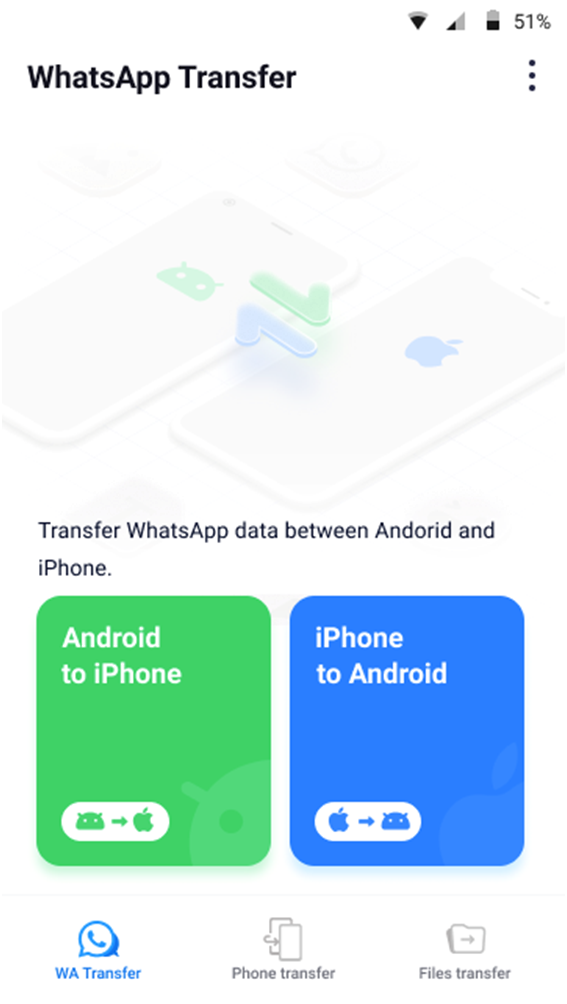 Set the source device as the Android phone and the target device as the iPhone by selecting the 'Android to iPhone' option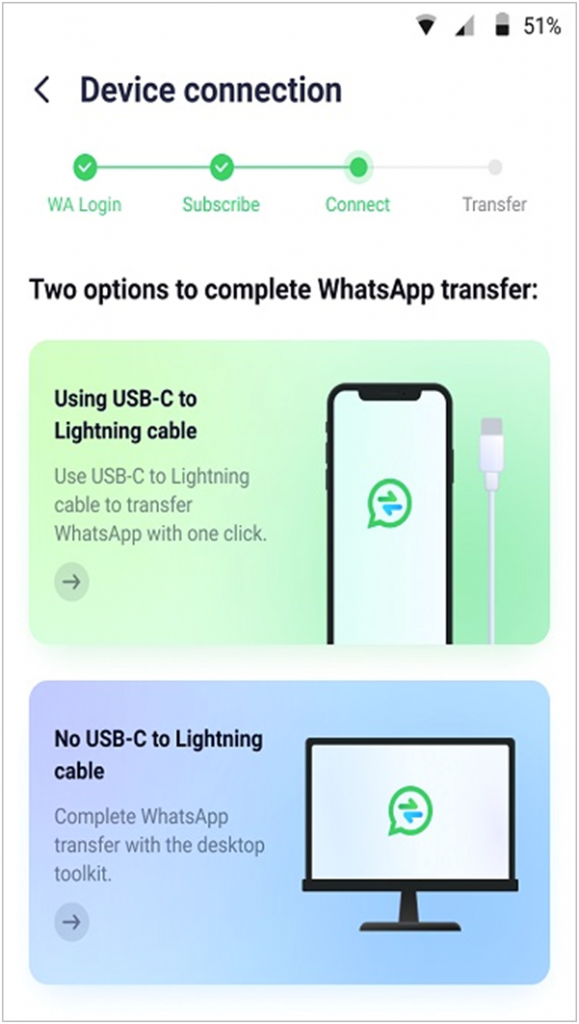 Login to WhatsApp on the target device and connect the phones using the OTG adapter or Lightning to USB-C cable; authorize the device to receive the data securely
Follow the instructions on the MobileTrans app to complete the WhatsApp transfer
Using this method, the WhatsApp transfer will be executed without requiring Wi-Fi or even mobile data. What's more, you can even transfer all of your phone data in this manner, although it will obviously take a little longer for this.
Here are some of the advantages of using this method:
Transfer WhatsApp and phone data from one device to another regardless of whether it's Android or iPhone
No Internet required
Supports all major brands of smartphones including Apple, Samsung, Google Pixel, Xiaomi, Huawei, Oppo, Motorola, LG, TCL, Honor, and OnePlus
Zero data loss guaranteed
Fast data transfer
Method 3: About the Official WhatsApp Transfer Method
As we briefly mentioned at the beginning of this article, the official WhatsApp transfer method for Android to iPhone doesn't exist as yet. The feature may be available in the future but, for now, the only possible option is for transferring WhatsApp from iPhone to some models of Android phones in Samsung's smartphone portfolio. However, even this has several limitations:
Limitations of the Official WhatsApp Transfer Method
No Android to iOS WhatsApp transfer is possible
Only supports some Samsung models
Cannot migrate WhatsApp data to a new number – the same number must be retained
Only moves personal conversations
Requires a Lightning to USB-C OTG cable for the transfer
Summary
What we essentially have is a scenario where WhatsApp doesn't officially support migrating from an Android device to an iPhone. What makes matters worse is that even third-party tools aren't completely reliable. In stark contrast, having access to the desktop and mobile versions of MobileTrans gives you the freedom to move your phone and WhatsApp data between any two devices running iOS and Android, including doing iOS to iOS and Android to Android transfers. And the best part is that you can choose between the desktop method or the device-to-device method using the mobile apps. The convenience of that is unparalleled, while the data integrity these methods ensure is second to none as well. Why take a risk when there are two great ways to transfer WhatsApp from Android to iPhone?