Being a successful doctor is a dream nurtured by many since their childhood, However, with course of time, exposure to only a few of those dreams are able to be turned into a reality. The causes for this disruption might be several ranging from a change of interests, self discovery, limited availability of resources in schools & colleges resulting in the high end competition.
India is a second populous country as of the official statistics available but is leading exponentially towards being the highest one. With almost 1.5 billion people in the country, India has ample human resources and abundant workforce available at a go. A large percentage of this grand number often is contributed by the younger generation. When it comes to higher education, the nation is currently short of resources to cater to this enormous youth force. Therefore, when it comes to higher education, especially medical education, studying MBBS abroad is a quite common choice.
Why Do Indian Students Study MBBS Abroad?
Emphasizing the medical education in India, to pursue any field of medicine or healthcare, it requires a lot of resources. As per the on-going educational pattern, the students are required to choose their discipline based upon their interest and career expectations after their class 10.
However, not all schools have the required facilities to provide medical education, therefore many students have to make another choice. Even most of the schools having the infrastructure for the medical studies can only cater to approximately 60 students at max for a single batch. Once done with the class-12 board exams, the students need to first qualify the National Eligibility Entrance Test (NEET).
This year for NEET UG, almost 17 lakhs students registered for the exam. After the immense hard work of the many, only 8 lakhs students were able to make it up to the desired cut-off. However, the tragedy of medical education in India is that there are just about 80,000 medical seats-including those in government & private colleges for them. Fortunate are those, who get to save their seat in government medical colleges of India. The private medical colleges in India often require the students to pay up a hefty amount as fees along with the donations.
As a result, a massive number of students prefer to study MBBS abroad. Now, it must be noted that choosing to study MBBS in abroad is definitely not a first choice in general, but is obviously a Plan-B for those who are hard-willed enough to not to give up on their dream to become a doctor.
Is MBBS Abroad Easy?
Certainly not. When it comes to studying Abroad, until and unless it's grand names like Oxford or Harvard, it is a general notion, that it is extremely easy. Medical Universities of Abroad, the often affiliated by several bodies like Educational Commission For Foreign Medical Graduates (ECFMG), Foundation for Advancement of International Medical Education and Research (FAIMER), World Directory of Medical Schools (WDOMS), Medical Council Of India (now National Medical Commission) and many others.
Therefore, since the medical curriculum fulfills the essential standard criteria for education the quality of education is maintained and it is certainly not easy. One of the reasons for this belief is the lack of parental supervision in MBBS abroad. Some students may choose to enjoy this new found freedom in the foreign land and enjoy the country's lavish routines instead of taking the classes of completing the students. But most of the students are also well aware of their situation and rather work on creating their future along with celebrating their time abroad.
Advantages Of Studying MBBS Abroad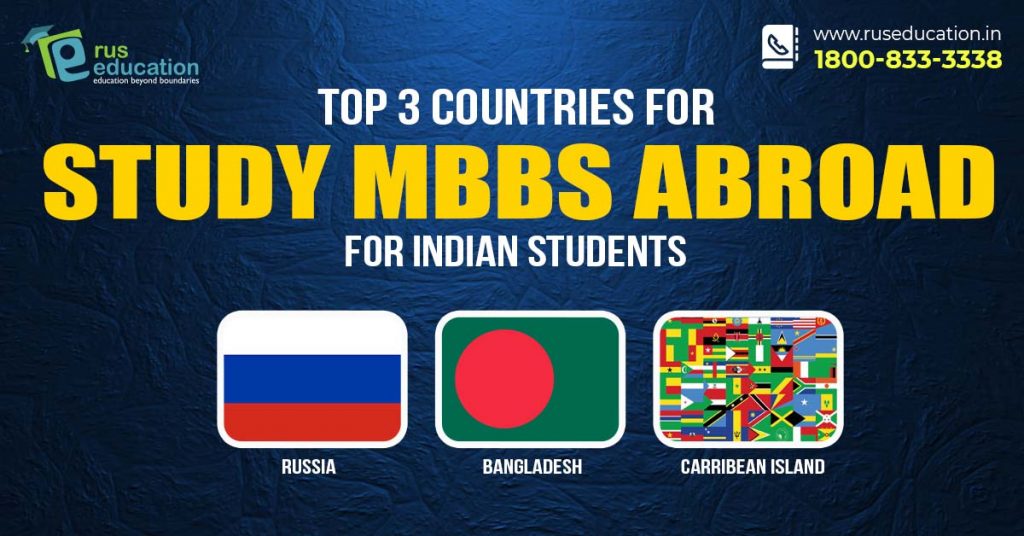 1. Affordable
One of the major advantages of studying MBBS abroad lies in the fact that it is extremely affordable when compared to that of MBBS in India at a private medical college of India. Studying in countries like Russia, Ukraine, Kyrgyzstan, Bangladesh, Caribbean Islands, etc. often is extremely cost-savvy in terms of their fees. Even the stay in these countries are exceptionally affordable and pocket-friendly to a large number of students.
Therefore, with the quality and expenses, studying MBBS abroad in these particular nations is often considered as cost-effective making it considerably popular among the Indian students.
2. Recognition & Reputation
A medical degree from a top medical university abroad accolades a strong pursuit in terms of careers for the young graduates. This further adds to the recognition of the degree in several aspects in the professional world. However, when choosing the university the students are always advised to verify its recognition. Statutory bodies like ECFMG and FAIMER ensures that the recognised university education is per say the standard norms of USA, similarly, every country has its own governing body for recognising medical education abroad.
Depending upon these recognitions of the university, the students can find their degree valid in the given countries.
3. Exposure & Scope
Medical education abroad builds up to create ample exposure among the students therefore providing them unlimited scope. Starting from the access to the global resources, the students can get multiple chances to be a part of various research and exhibitions, workshops, symposiums, conferences, summits, etc at a global level. With this the students can discover several areas of interests of their own with limitless fields of studies. This can, therefore be concluded with MBBS abroad, exposure and scope are prepensely definitive for the Indian students.
4. Advanced Learning Strategies
Most medical universities abroad are known to have state-of-art educational infrastructure which also proves to be extremely resourceful. Well equipped libraries, laboratories, classrooms, etc, often aids the overall learning to the students. Certain options like MBBS in Russia also provide the involvement of robotics, making learning more interesting and effective for the students.
5. Skill Development
While the significance of MBBS abroad may be a debatable topic, it is a well established fact that the students who have studied abroad are often identifiable from a distance. It is due to the fact that studying abroad often significantly polishes the overall personality of the individual. Studying MBBS abroad can actually prove to be the best choice when it comes to the overall development. Staying abroad helps the students become more independent and self-reliant, strengthening their confidence in their personality.
A pragmatic approach towards learning formulates the fulfillment of all the essentials of the professional skills, like leadership, decision making, cooperation, cooperation, etc. The curriculum emphasizes not just the academic development but also physical and social, emotional and physical development of the learners.
Conclusion
From all the discussions above, it can be concluded that MBBS abroad may not be a first choice for many students but has certainly proven to be of great value to even more students. With the limited resources at present, the country is unable to fulfill the massive influx of the demand for medical education.
MBBS in abroad, therefore, has proven to be a great boon for thousands of present day doctors working in India, since the past few decades. Countries like Russia, are exemplary names among the Indian medical students. Did you know? With MBBS in Russia, Indian students can also receive FMGE/NExT coaching along with their study in the top government medical universities of Russia. There are also several other names that are rapidly gaining popularity among the Indian students, such as those of Bangladesh, Caribbean Island, Ukraine, Kyrgyzstan, Armenia etc.
Rus Education has actively been helping the students for their concerns about MBBS abroad and providing authentic and insightful information about the admission. With Rus Education as their partner, the students also get support through all their years of stay in the foreign land as well.
If you also discover your opportunities of studying MBBS abroad that in top medical university, call the student helpline number 1800-833-3338 or visit the official website of Rus Education at www.ruseducation.in