Typing is an intrinsic part of our lives. Everything that you see on screen is typed by someone. From notification on your phone of an app, to promotional mails. Even though it is automated, someone has typed in a code with these messages. It feels astonishing that communication has become so simple nowadays that people don't even realize how much effort has gone into this.
Speaking of communication, telephones are now replaced with mobile phones. And calls are slowly getting replaced by texting, especially amongst the younger generation. With growing demand for better features, an Indian company called Bobble AI has launched the Bharat keyboards, which is a collection of regional typing keyboards. It aims to give the best typing experience to its users and make them fall in love with typing.
There is a great impact of Bharat keyboard on the Indian population and Indian regional language speakers worldwide. This can very well be interpreted from the fact that with over 100 thousand downloads, the keyboard has a rating of 4.3. Bharat keyboards are very particular about user experience, which is why any suggestions are replied to instantly and implemented in subsequent updates. There are many features of this app that are pulling Bharat keyboards in every Indian's phone. Let me tell you about them.
Fun Sticker Packs
Bharat keyboard's flagship program, the Malayalam keyboard is the best app for sticker lovers. There are many options to send them. But more importantly, the keyboard allows you to make stickers. When I talk about stickers, the only thing that may come to our mind is memes. But there is a lot more that this keyboard makes you explore. There are more than a century of ready-made sticker packs in the app. They range from love, friendship, latest movies, festivals and greetings. These sticker packs can be downloaded and accessed from the keyboard.
Coming to making stickers, what could be more amazing than avatars? An animated version of yourself, avatars are a fun way to connect to your family and friends. The visualization makes stickers more personalized and special. These avatars can be added to the sticker packs that you download. We can even make animated stickers using the front facing camera of the phone. These GIFs or animated stickers can be sent instantly, without downloading any third party applications.
Something that makes this app different from the rest is that words and emojis can also be sent as stickers. Pop-texts are colorful conversions of words upto 25 characters that can be sent as stickers with just a click. The preview of pop-texts is shown on the keyboard but can be disabled from the settings. Bigmojis are bigger emojis. If you hold an emoji on the Malayalam keyboard, it will be sent as a sticker. The most used emojis are animated to give them a more attractive look. All apps of the Bharat keyboard have these features. But, you get specialized content in the respective language. As will be explained further
Jokes, Quotes, and Shayari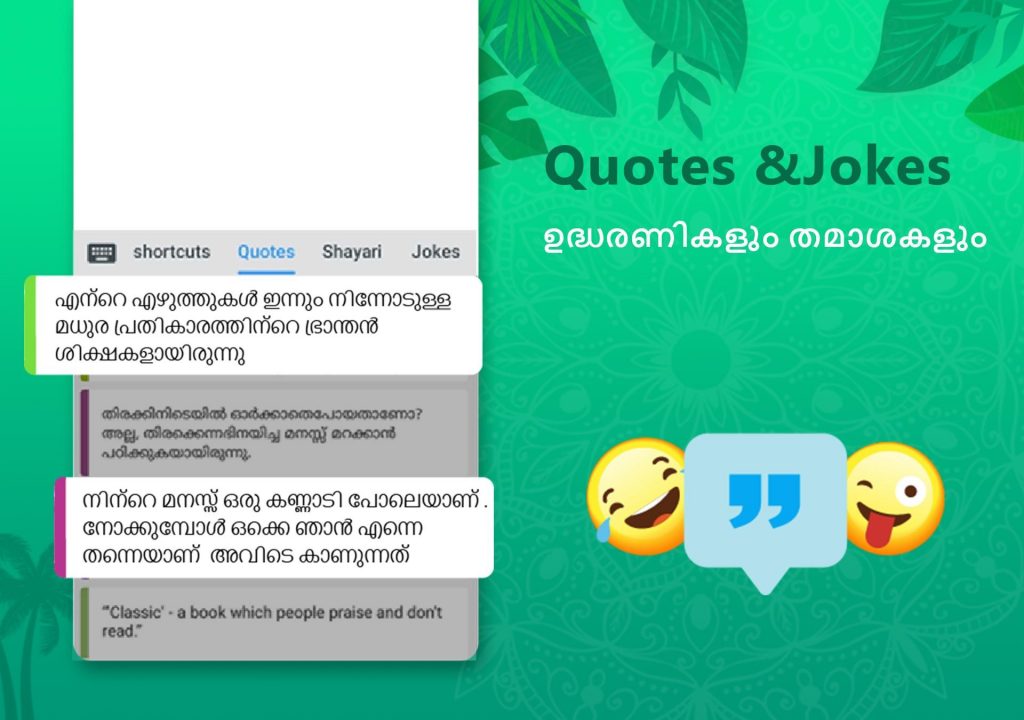 Getting all of your literature dreams on your finger tips, all Bharat keyboards, including the Malayalam typing keyboard has many ready-made English and Malayalam messages stored in it. They can be opened from the quick-access bar. Malayalam jokes, quotes and Shayari without having to open google or youtube. Sounds convenient? It indeed is, and that is what Bharat keyboard is all about – surprises.
There are hundreds of hilarious jokes and new ones are added with every update. They can make the mood of any group fill with joy and laughter. Awe-inspiring shayari from the keyboard makes you appreciate life, such are the words. The quotes or inspirational words are very good to send to someone who is feeling low. The words and encouragement will boost their morale and you will instantly receive gratitude, but we know that the Malayalam keyboard was behind this. Shh, we will keep your secret.
Privacy
Talking about secrets, how can we not talk about an important topic such as Privacy. Typing a keyboard is a digital tool that knows everything about what you type. And now with cloud-based storage and account systems, it is necessary to be assured that the keyboard will respect your privacy, but not store any type of passwords.
Bharat keyboard has received recognition from top cyber security firms for the safety of the app. All passwords that you type are in secure fields, the keyboard cannot see these fields. Now a question may arise, what did I mean by 'See these fields'? Can the keyboard see my other chats? The answer is no. No one can see what you type. Since the keyboard is an AI powered app, it picks up certain keywords to teach itself your typing habits. Word suggestions and auto-correction is then done according to this memory. This entire process is automated and no one can see what you type due to encryption.
Easy Typing
All the features aside, the reason why anyone downloads a keyboard is to type. Bharat keyboard provides the best typing solutions to its users. The Malayalam keyboard app for instance, is the fastest Malayalam typing keyboard on Playstore. It has made Malayalam typing easy for young and old alike. There are English, Malayalam, and Manglish typing methods on the keyboard. The Manglish keyboard is the most popular tool amongst the three. You can type in English letters and the keyboard will convert it to Malayalam instantly.
Moreover, you can type fast with one hand using the swipe typing feature. Just swiper from letter to letter to form words. Release the swipe to start a new word. This easy sentence forming becomes very simple. Though if you will be using a Malayalam and English mix, the keyboard will adapt and store the words in its memory really quickly and avoid auto-corrections of Malayalam words in the future.
The speech-to-text feature is an amazing feature that makes long message typing very convenient. Just select the output language – say Malayalam and start speaking. The keyboard will detect the words and do the sentence formation.
Personalization
Making a great app is one thing, making it attractive is another. But combining both of them is insane and that is what is being achieved by Bharat keyboard. This app is completely customizable. Change themes, add background images or working settings of the keyboard, all kinds of adjustments are possible.
Many Regional Languages
Don't think that Malayalam keyboard is all that Bharat keyboard has to offer. They have more regional typing solutions such as the Hindi, Bangla and Marathi keyboards. Speaking about the Marathi keyboard for instance, it is a great Marathi typing app. Since Marathi is similar to Hindi, the keyboard can be used by anyone without any confusion. Clarity, speed and accuracy are the trademarks of this app.
Similar to the malayalam keyboard app, the keyboard contains regional sticker content and literature to make your chatting experience exceptional. The stickers range from recent movies and dialogues of TV serials. The literary content has inspiring quotes and poems from eminent writers of Marathi sahitya. It is truly a wonderful app for Marathi typing.
Bharat keyboard has been dedicatedly providing best services to all Indians and foreigners speaking Indian regional languages. The best apps come with fees, but this app is completely free. Bharat keyboard, without any arguments, has the best keyboards on Playstore.
click here for more articles